Lake Mead Housebost
Custom Houseboats
Houseboats for sale
Houseboats for rent
New Houseboats
Used Houseboats
Shared Ownership
Hoover Dam
History of Lake Mead
Lake Mead Water Level
Lake Mead Map
Boating Services
59' Deluxe Houseboat Model
Houseboating fun for the whole family!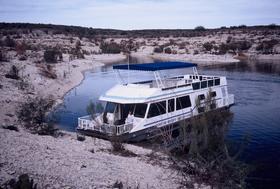 picture gallery
Each 59' x 14' Deluxe houseboat sleeps 10 comfortably, maximum 12 and is luxuriously equipped with the following features, plus a Canopy Top and Wet Bar on the Sun Deck!
59' Deluxe Houseboat Model Floorplan:
The 59' Deluxe has a very open layout featuring a living area in front salon, dinette seating, breakfast counter, a fully equipped kitchen, BBQ grill, 2 private and 2 semi-private bedrooms, 5 queen beds, wet bar and sun canopy on the top deck and 1 1/2 baths.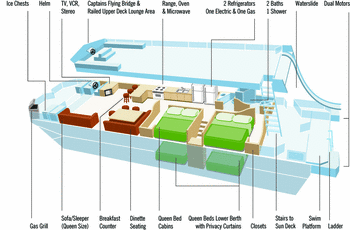 The 59' Deluxe Houseboat Model Features:
2 Private and 2 Semi-Private Bedrooms each with a Queen Bed
Queen Size Sleeper Sofa
1 1/2 Baths
Breakfast Counter
Sun Canopy on Top Deck
Wet Bar with Icemaker & Refrigerator on Top Deck
Captain's Flying Bridge for driving from Top Deck
Intercom between Upper and Lower Helm
2 155-Quart Built-in Ice Chests on Front Deck
Gas BBQ Grill
19" TV/VCR (VHS Recorder)
Cassette/CD Stereo
Kitchen Appliances:
Coffee Maker, Blender & Toaster
Microwave
2 Refrigerators: Propane and Electric
Full Size Range & Oven
Kitchen Furnishings / Utensils:
Dish Towels & Pot Holders
Dish Drainer with Mat & Scrub Sponge
Tableware Tray & Paper Towel Holder
Kitchen Trash Can & 6 Large Trash Bags
2 Drawer Organizers & 2 Sink Plugs
Ice Pick, Corkscrew & Can Opener
2 Non-Stick Spatulas & 2 Rubber Spatulas
Soup Ladle, Large Spoon & Slotted Cooking Spoon
Measuring Cup & Spoon Set
Tea Kettle & Cutting Board
3 Piece BBQ Set & BBQ Brush
Cheese Grater, Colander & Vegetable Peeler
4 Marshmallow Forks
Paring Knife, Knife/Fork Set & Knife Sharpener
Dinner Knives & Steak Knives
Mixing Bowl Set & Baking Dish
Cookware Set, Serving Platter & Pitcher
Skillet, Griddle & Microwave Cookware
Forks, Tea Spoons, Table Spoons & Salad Tongs
Dinner Plates, Glasses & Cups
Furniture - Indoor & Outdoor:
3 Dinette Chairs, 3 Bar Stools & 4 Deck Chairs (Patio)
Breakfast Counter
Electronics / Heating & Cooling:
19" TV/VCR (VHS Recorder) in Main Salon
Water Heater
Central Air Conditioning & Heat
Power Outlets (110v)
Cassette/CD Stereo
VHF Radio
Generator
Linens (towels, blankets, etc.):
Sheets (10), Pillows with Cases (10) & Blankets (5)
Bath Towels (10) & Wash Cloths (10)
Bathroom & Cleaning Supplies:
Dust Pan with Broom, Bucket, Mop & Step Stool
Vacuum with Attachments & 1 Fly Swatter
Kitchen Dish Soap
2 Bathroom Wastebaskets & Bathroom Soap Dishes w/Soap
Toilet Brush with Holder & Bio-Degradable Toilet Paper
2 Ash Trays
Safety & Instructional Items:
Sledge Hammer, 4 Stakes & 2 Mooring Ropes
Personal Flotation Devices (12) & Floatation Cushion
Carbon Monoxide Detector, Smoke Alarms & Fire Extinguishers (3)
Area Map, Operations Manual & Instructional Videotape
First Aid Kit & Marine Radio (VHF)
Safety Railings, Ships Bell & SOS Flag
Mileage & Speed Specifications:
Dual 115hp Outboard Engines
8 to 10 mph
Water / Sewage / Fuel Capacities:
300 Fresh Water Tank
300 Black Water Tank
265 Gallon Fuel Tank
Two 7-Gallon Propane Tanks
One 5-Gallon Propane Tank for Deluxe BBQ Grill